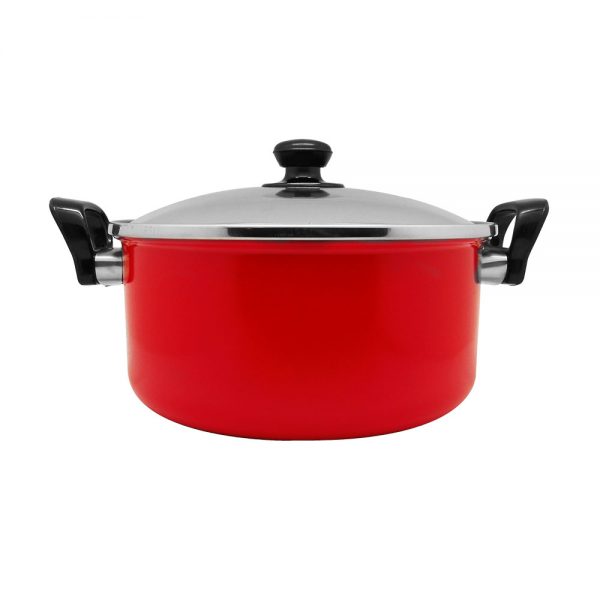 Dutch Oven Maslon Ebonit Handle Glass Cover
Maslon Dutch Oven from MASPION is made of high-quality steel with nonstick coating on the inside so it is safe for cooking and easy to clean after finishing cooking. Handles and knobs made of phenolics provide comfort when moving the pan position and not delivering heat. A strong and not easily scratched glass lid makes it easy to monitor the level of food maturity. Maslon Saucepan from Maspion, the best nonstick pan for Indonesian families.
---
Made from high quality carbon steel.
With non-stick coating that makes cooking and cleaning easy. Use wooden or nylon spatula ONLY. Metal spatula will make the layer peel off.
Ergonomic and strong handles made from phenolic make it easy to lift the pan and will not melt.
Description
Additional information
Use and Care
Description
Code
Description
Unit In Box
Measurement
Weight
Barcode
Inner Box (mm)
Outer Box (mm)
/Unit (gr)
/Box (gr)
BLG-PCDO18
PANCI DUTCH OVEN 18 CM EBONIT HANDLE
12 PCS/BOX
232x232x123
737x257x532
–
–
8990011 010063
BLG-PCDO20
PANCI DUTCH OVEN 20 CM EBONIT HANDLE
12 PCS/BOX
250x250x132
785x277x571
–
–
8990011 010070
BLG-PCDO22
PANCI DUTCH OVEN 22 CM EBONIT HANDLE
12 PCS/BOX
267x267x140
830x294x603
–
–
8990011 010087
BLG-PCDO24
PANCI DUTCH OVEN 24 CM EBONIT HANDLE
12 PCS/BOX
280x280x145
869x304x627
–
–
8990011 010094
BLG-PCDO26
PANCI DUTCH OVEN 26 CM EBONIT HANDLE
12 PCS/BOX
296x296x155
912x324x647
–
–
8990011 010100
Additional information
| | |
| --- | --- |
| Color | Red |
| Finishing | Non-Stick Coating, Silicone Polyester |
| Material | Carbon Steel |
| Cover | Glass Cover |
| Handle & Knob | Phenolic / Ebonit |
| Ignition | Electric Stove, Gas Stove, Induction Stove |
Before being used for the first time, cleanse the cookware with warm water and let dry.
Use wooden or nylon spatula ONLY. Spatulas made of metal will make the nonstick coating layer peel off.
Even though coated with the nonstick coating, better use a little bit oil or butter while cooking.
After cooking, let the cookware cool down. Wash in the warm water with soap. Gently rub the stain with a sponge. Rinse and wipe with soft fabric. MAKE SURE the cookware is dried completely before stored.
Do NOT soak in water for too long and avoid collisions with hard objects.
Not recommended to wash using a dishwasher.
For long-term care, it is recommended to cover the cookware with a layer of vegetable oil before storing. Put a little bit of oil on the tissue and wipe it evenly on the cookware's surface.