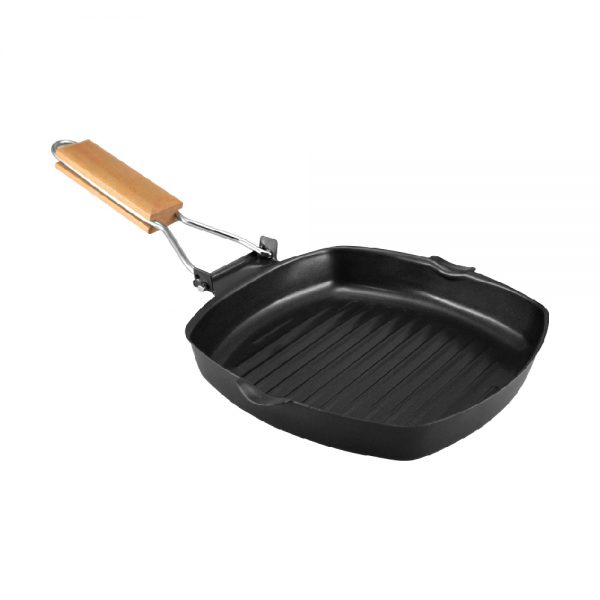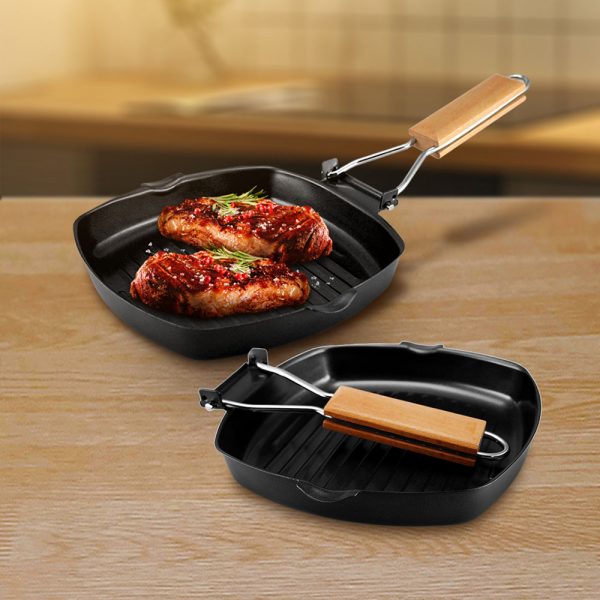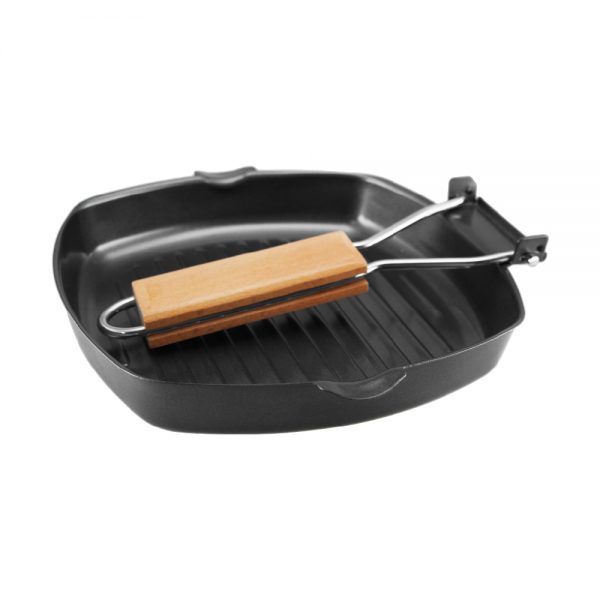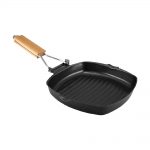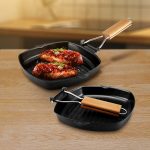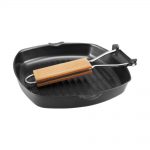 Yasuki Grill Pan Non Stick
Non-stick Yasuki Grill Pan are products of the Maslon brand from Maspion Logam Jawa. That is specialized to make grilled food. It can also be used to cook other dishes. With corrugated surface, the food will be perfectly cooked in a shorter time and leave the appetizing "Grill Marks" on it. The handle can be folded to save space when storing. Yasuki Grill Pan can also be used to make toasts, fry sausages, or cook vegetables for the barbeque.
---
Made of high-quality MASPION Carbon Steel, deliver heat from ignition well and faster. Carbon Steel can also store heat from ignition after the stove is turned off, thus keeping food warm before serving.
The inside is coated with a quality non-stick layer, safe for food and easy to clean. The outside is coated with a silicon-polyester layer which protects the Carbon Steel from direct heat and rust.
Equipped with a comfortable wooden handle, will not deliver heat when held while cooking.
Frame from the wooden handle is made of iron wires coated with nickel chrome.
---
Description
Additional information
Use and Care
BROCHURE AND FLYER
Description
Code
Description
Unit In Box
Measurement
Weight
Barcode
Inner Box (mm)
Outer Box (mm)
/Unit (gr)
/Box (gr)
BLG-PIYA20
YASUKI GRILL PAN 20 CM
24 PCS/BOX
230X50X225
640x440x240
–
–
8990011 011633
BLG-PIYA28
YASUKI GRILL PAN 28 CM
24 PCS/BOX
305x55x310
710x655x340
–
–
8990011 011657
Additional information
| | |
| --- | --- |
| Color | Black |
| Handle & Knob | Wooden Handle |
| Material | Carbon Steel |
| Finishing | Non-Stick Coating |
| Ignition | Electric Stove, Gas Stove, Induction Stove |
Before being used for the first time, cleanse the cookware with warm water and let dry.
Use wooden or nylon spatula ONLY. Spatulas made of metal will make the nonstick coating layer peel off.
Even though coated with the nonstick coating, better use a little bit oil or butter while cooking.
After cooking, let the cookware cool down. Wash in the warm water with soap. Gently rub the stain with a sponge. Rinse and wipe with soft fabric. MAKE SURE the cookware is dried completely before stored.
Do NOT soak in water for too long and avoid collisions with hard objects.
Not recommended to wash using a dishwasher.
For long-term care, it is recommended to cover the cookware with a layer of vegetable oil before storing. Put a little bit of oil on the tissue and wipe it evenly on the cookware's surface.