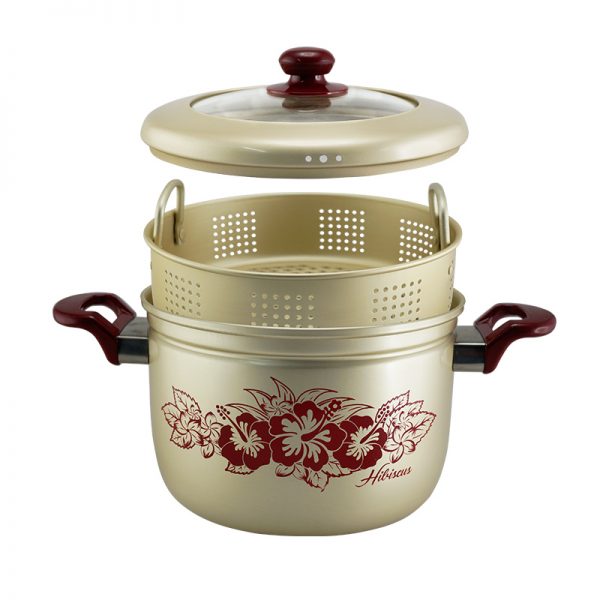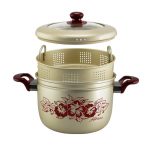 Multi Purpose Steamer (Pancaguna) Champagne Gold With Red Printing
Elegant with red printing and champagne gold colour. Multi-Purpose Steamer (Pancaguna) Champagne Gold With Red Printing is a product of the Colan brand from Maspion Logam Jawa. Multi Purpose Steamer and also known as Pancaguna is multi-function cookware that can be used for various purposes in the kitchen such as steaming, cooking vegetables, cooking rice, and baking.
---
Made with MASPION Aluminum which has gone through the anodizing process. Making aluminum more durable, food-safe and easy to clean.
Unique aluminum strainer design with two handles, different from the ordinary steamer. The strainer is designed to be easier to lift when the food is done.
Strong and durable glass lid with anti-scratch making it easier to monitor the food.
Steam ventilation will reduce pressure so that food will not spill when boiled.
Equipped with a comfortable phenolic handle and knob, will not deliver heat when held while cooking.
Description
Additional information
Use and Care
Description
Code
Description
Unit In Box
Measurement
Weight
Barcode
Inner Box (mm)
Outer Box (mm)
/Unit (gr)
/Box (gr)
AA-L-PGUCGK22
PANCAGUNA CHAMPAGNE GOLD 22 CM TUTUP KACA
6 PCS/BOX
330x230x190
705x345x390
–
–
8990011 224712
AA-L-PGUCGK24
PANCAGUNA CHAMPAGNE GOLD 24 CM TUTUP KACA
6 PCS/BOX
340x259x190
808x352x393
–
–
8990011 224729
AA-L-PGUCGK26
PANCAGUNA CHAMPAGNE GOLD 26 CM TUTUP KACA
6 PCS/BOX
356x276x200
852x367x419
–
–
8990011 224736
AA-L-PGUCGK28
PANCAGUNA CHAMPAGNE GOLD 28 CM TUTUP KACA
6 PCS/BOX
363x291x211
890x385x442
–
–
8990011 224743
AA-L-PGUCGK30
PANCAGUNA CHAMPAGNE GOLD 30 CM TUTUP KACA
6 PCS/BOX
375x310x220
971x393x455
–
–
8990011 224750
AA-L-PGUCGK33
PANCAGUNA CHAMPAGNE GOLD 33 CM TUTUP KACA
6 PCS/BOX
395x340x220
1042x408x450
–
–
8990011 224767
AA-L-PGUCGK37
PANCAGUNA CHAMPAGNE GOLD 37 CM TUTUP KACA
6 PCS/BOX
475x387x240
795x485x500
–
–
8990011 224774
Additional information
| | |
| --- | --- |
| Color | Champagne Gold |
| Cover | Glass Cover |
| Finishing | Color Anodize, Slick Screen Printing |
| Material | Aluminium |
| Handle & Knob | Phenolic / Ebonit |
| Ignition | Electric Stove, Gas Stove |
Before using for the first time, wash with warm water, dishwashing soap, and a soft sponge.
Cook on medium or low heat. Aluminum is a good conductor so it is not necessary to cook at high-temperatures which will cause the change of colors on the surface of the aluminum cookware.
Allow the aluminum cookware to cool completely before washing.
After washing, dry each part of the aluminum cookware with a dry cloth.Better not to use metal utensils that can damage or scratch the inner surface.
Store the aluminum cookware carefully, avoid direct contact with metal or sharp objects.
Place the inside upside down when storing to prevent dust and odor.