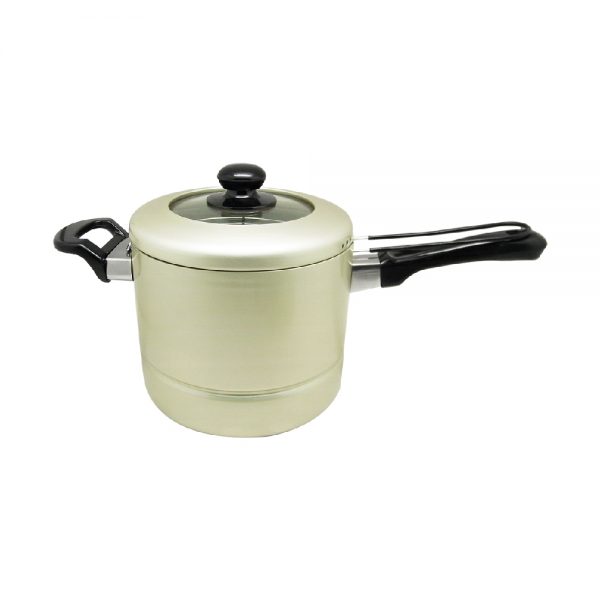 Stimfrai Glass Cover
Stimfrai Glass Cover is a product of the Colan brand from Maspion Logam Jawa. Stimfrai from MASPION is a multi-function cooking tool for various cooking needs in the kitchen. It can be used for steaming cakes, rice, or vegetables like a steamer. The heat distributes evenly making the dish cooked perfectly. Stimfrai can be also used to fry dishes with deep-frying techniques because they are equipped with a frying basket. Stimfrai can also be used to boil. Baskets are used as a drainer for boiled dishes such as spaghetti, noodles, and vegetables. With Stimfrai from Maspion, steaming, frying, and boiling are enough with just one cooking utensil. Practical and fun.
---
Made of aluminum Maspion which has gone through a rust-resistant anodizing process.
Equipped with an aluminium insert for steaming.
Baskets for frying and draining food made of iron wire with a nickel chrome coating.
Equipped with a lid. Two choices of glass lid with aluminum rings and full glass lid.
The handles and knob are made of phenolics. Heat resistant and does not melt easily.
Diameter of 18 cm with a height of 15 cm.
---
Description
Additional information
Use and Care
Description
Code
Description
Unit In Box
Measurement
Weight
Barcode
Inner Box (mm)
Outer Box (mm)
/Unit (gr)
/Box (gr)
AA-L-MSF0118
STIMFRAI 18 CM
6 PCS/BOX
405x186x185
594x420x380
–
–
8990011 222138
AA-L-MSFK118
STIMFRAI 18 CM TUTUP KACA
6 PCS/BOX
405x186x185
594x420x380
–
–
8990011 222121
AA-L-MSFF118
STIMFRAI 18 CM TUTUP FULL KACA
6 PCS/BOX
405x186x185
594x420x380
–
–
8990011 222145
Additional information
| | |
| --- | --- |
| Color | Champagne Gold |
| Finishing | Soft Anodize |
| Material | Aluminium |
| Cover | Glass Cover |
| Handle & Knob | Phenolic / Ebonit |
| Ignition | Electric Stove, Gas Stove |
Before using for the first time, wash with warm water, dishwashing soap, and a soft sponge.
Cook on medium or low heat. Aluminum is a good conductor so it is not necessary to cook at high-temperatures which will cause the change of colors on the surface of the aluminum cookware.
Allow the aluminum cookware to cool completely before washing.
After washing, dry each part of the aluminum cookware with a dry cloth.Better not to use metal utensils that can damage or scratch the inner surface.
Store the aluminum cookware carefully, avoid direct contact with metal or sharp objects.
Place the inside upside down when storing to prevent dust and odor.