Garnet Set Pcs is a Pot from the Maslon brand of Maspion Logam Jawa. Great for reheating soups, making sauces, cooking grains, or boiling vegetables. Suitable for everyday cooking which requires a fast and practical process.
---
Made of high-quality MASPION Carbon Steel, deliver heat from ignition well and faster. Carbon Steel can also store heat from ignition after the stove is turned off, thus keeping food warm before serving.
The inside is coated with a quality non-stick layer, safe for food and easy to clean. The outside is coated with a silicon-polyester layer which protects the Carbon Steel from direct heat and rust.
Always use nylon or wooden spatulas when cooking because metal spatulas will make the non-stick layer peeled off.
Equipped with a comfortable wooden handle, will not deliver heat when held while cooking.
Strong and durable glass lid with anti-scratch making it easier to monitor the food.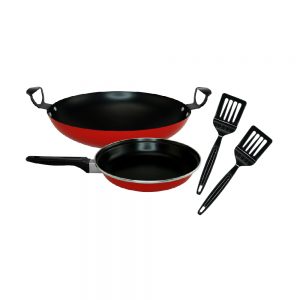 Maspion Princess Set are products of the Maslon brand from Maspion Logam Jawa. sold exclusively by Tokopedia. Containing with a wok with a diameter of 30 cm and frypan with a diameter of 22 cm. Maspion Princess Set is suitable for Maspion Families who want economical quality products for the needs of cooking at home every day. Equipped with a quality nonstick coating. Making wok and frypan from Maspion Princess Set is easy to clean.
---
[porto_block label="" id="9602" name="maslon-non-stick-penolic"]